Blue Sea automatic charge relay kit. $325.00
Includes 120amp ACR, 2 150 amp thermal breakers and 4 custom cables.
Automatically combines batteries during charging, isolates batteries during engine cranking and when not charging
Senses charge source on either battery bank
Under voltage lockout—won't close when the lower battery is below 10.8V@12V or 21.6V @24V operation
Complete kit as shown $325.00 +s/h
The

iSeries Tank Systems Monitor

provides hastle free tank monitoring for your RV or boat. The

iSeries

is patented technology with Level Alert ™. It is the ONLY tank monitor tested and approved by the United States Coast Guard. It is NMMA Certified using ABYC

®

standards. Other tank probes often become corroded or clogged with materials. This sends false signals to the Panel. Sensors on the

iSeries

system mount externally and actually read through the tank wall. It is perfect for new projects or for replacing your old tank monitoring system.

* Fully Programmable for up to 4 regular and 4 LP tanks. Can be customized for 8 regular tanks.
* Alarms at High or Low settings
* Live Tech Help for installation
* This kit has exterior moda sensors for 3 tanks. Additional Moda Sensor Kits Available.
* Monitors Battery Voltage as well.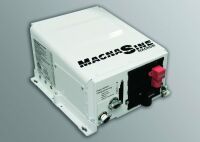 $2479.00 +s/h
2800 WATT, 12V INVERTER/125AMP PFC CHARGER
Complete Overview: MS2812 Standard Feature .Shelf, Bulkhead or Upside Down Mounting. .Pure Sine Wave Output .Power Factor Corrected Charger (Sine Wave) .RS485 Standard .Remote Port .Network Port .Flash Programming .ON/OFF Inverter-mounted Switch with LED Indicator .50 Amp Transfer (on Dual IN / Dual OUT Models .Extra Large AC Access Cover with Terminal Screw Block .360 degree DC Connection Terminals with Cover .Battery Temperature Sensor - for optimum battery charging .ETL listed to UL/cUL 458 EQUIVALENT TO; PROSINE 2.5,3.0,RS3000 3YEAR WARRANTY
REMOTE DIGITAL LCD DISPLAY WITH 50 CABLE
$299.00 + s/h
The ME-ARC is simple to use, yet allows full set-up of all the standard and advanced features available in Magnum inverters. The ME-ARC also has the option of controlling the advanced features of the ME-AGS-N Automatic Gen Start and the ME-BMK Battery Monitor Kit using a network connection to the inverter. This remote has convenient finger-tip operation, including the new one-knob programming. Note: All settings/setup menus in the ME-ARC are compatible with MS-PAE Series inverter/chargers. If you are using the ME-ARC with another inverter/charger (other than the MS-PAE Series), some features and setup menus may not be compatible with your inverter and will not function. Contact Magnum Energy to determine if a particular feature/setup menus provided in the ME-ARC are compatible with your inverter.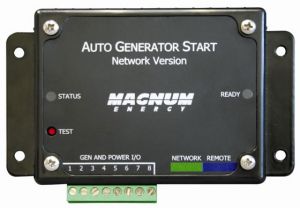 3 RELAY AUTO GEN. START MODULE W/ VOLTAGE AND TEMP START /NETWORK VISION
$329.00 +s/h
The ME-AGS-N is the 'network' version of Magnum Energy's Automatic Generator Start (AGS) controllers. The version is setup and operated via a Magnum Energy Inverter and ME-RC or ME-ARC remote panel. When using the ME-RC Remote, the ME-AGS-N has basic adjustments starting on battery voltage or temperature. When using the ME-ARC remote, the ME-AGS-N has advanced start and stop settings based on: Time of day, battery State of Charge, battery voltage, high temperature, or inverter load amps. Also includes the ability to manually turn the generator ON and off, generator exercise, warm-up and cool-down.
Magnum 2812 inverter swap out kit for your Country Coach.
Kit includes all of the following parts. Note there is software updates that need to be made to the Dash and Coach displays in addition to these componant installs.
TM502 Magnum Inverter Interface
TM102 JS457
MS102 Temperature sensor for TM102
connector kit with resistors
2812MS Magnum inverter
Call for priceing.
5 button Comfort control upgrade kits
Wall unit and board kit $307.00 /second unit board $187.00 + S/H
White rodgers 200 amp Boost/charge relay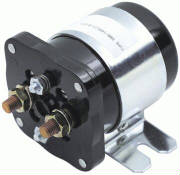 $147.00 + S/H
80AMP chassis selonoid $48.63
200 AMP house selonoid $97.15
Intellitec IPX master Module $265.00 + S/H
Resolves lighting issues for Allure and Inspire
Now available Bussmann 12 volt dist panels.
Available in 8,12,16,20,24,28 and 32 terminal for ATC fuses.
$67.24 each + S/H